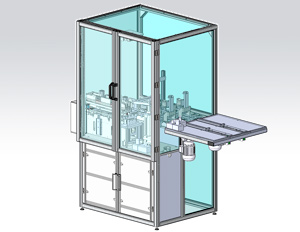 Lateral Flow Production Equipment
includes full manufacturing processes, such as sorting of parts, cutting of diagnostic medical dipstick, positioning into subshell of housing, assembling subshell with upper shell of housing, controlling product quality, hand over to packaging machine.

This machine accepts feeding with various sheets of lateral-flow laminates as well as subshell and upper shell of housing. Then it produces complete lateral flow tests for clinical diagnostics.